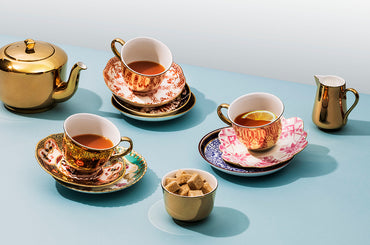 Collection
Reflect
The Reflect collection started with our teacup, which brings life back to antique saucers missing their other halves by using platinum and gold gilding to create highly reflective cups.
The mirrored cups reflect the patterned saucers, giving them a new lease of life and a place in contemporary homes.
Each cup is skilfully decorated and then paired with a saucer, all of which have been meticulously sourced from antique dealers across Britain.
With every teacup and saucer set is a handwritten gift card detailing the saucer's unique history and making Reflect the perfect gift for the tea and coffee drinkers in your life, or even just yourself! Reflect has now grown to include matching teapots, milk jugs, sugar bowls and coffee cups, to complete the collection.
Handcrafted design
Every piece of our bone china and crystal has passed through several pairs of hands before it arrives at your table. That's what we mean when we say handmade.