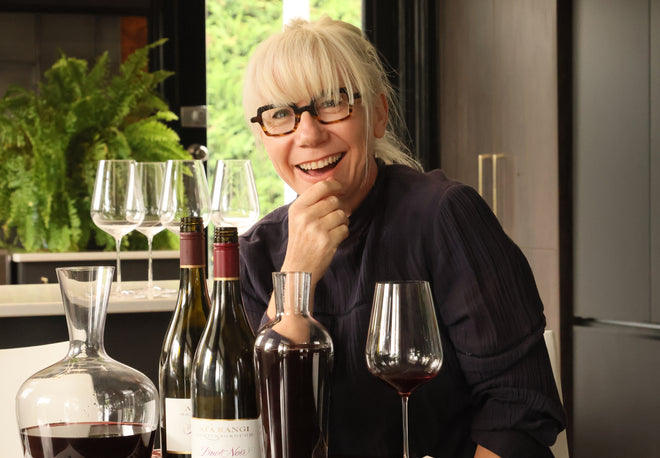 14/04/22
WORD FROM THE WINEMAKER WITH ATA RANGI
For our next instalment of Word From The Winemaker, we're sitting down with Helen Masters, head winemaker at the globally renowned Ata Rangi in Martinborough, New Zealand.
For our next instalment of Word From The Winemaker, we're sitting down with Helen Masters, Head Winemaker at the globally renowned Ata Rangi in Martinborough, New Zealand.
Helen started her time at Ata Rangi during her gap year, returning as Head Winemaker in 2003 and going on to help achieve New Zealand's first Grand Cru status and winning Gourmet Traveller Winemaker of the Year in 2019. With such an esteemed resumé, it was a pleasure to delve into the world of Martinborough wines with Helen. 
Either continue reading or watch our video with Helen below to discover just what makes our Jancis Robinson Collection a favourite at Ata Rangi, and what you should be pairing their critically acclaimed Pinot Noir with. 
When tasting and judging a wine, what do you look for in a glass? 
Like all wine makers, we love to drink wines from around the world and we love to look at great examples of wine. For us, the glassware that we use is incredibly important. We're always looking for that real purity and expression from the wine coming from the glassware; so it's a real pleasure today to talk about the Jancis Robinson range of glasses and decanters. 
Everyday I am trying a lot of wine and evaluating their nose, their structure, and for me personally, I am really interested in the length and the shape of the wine. Having a glass that can help me focus on that aspect of the wine is really important.
Is this the same for when you're at home and enjoying wine outside of work?
When we're having wine at home or at a dinner party, we all just do a lot of wines blind; I guess that's part of the fun! So we can be changing from one variety to the next within the same meal setting, and having a glass that can really show each of those varieties, whether it be a Riesling from Germany or a Berlou, we might even switch to a Bordeaux, having a glass at dinner that can cope with all that makes it a lot easier. 

What features of your wines become clearer and more prominent when using our Jancis Robinson Glasses?
Our real focus here at Ata Rangi in Martinborough is about the palette. Aroma does really come naturally with the wines, and the winemaking process is around really highlighting that beautiful elegant structure we can get here in Martinborough. 
A combination of very fine tannin structure and a real drive right through to the finish; what I love about the Jancis Robinson glass is that it really accentuates those qualities.

Do you decant your wine, and if so why and when?
Winemakers are a little guilty of trying one's wines a little bit young, so it's been great to have a decanter specially designed to really open up young wines. This Jancis Robinson Young Wine Decanter is perfect for that with its wide open base. 
The Mature Wine Decanter is perfect here for more aged wine, because it's taller and slimmer. It really protects the finer aromatics, those more delicate aromas that evolve as a wine ages but still allows you to decant off sediment. 
I do like to decant our older wines, especially those that are older than 15 years. They've just had a lot more time in the bottle and that process of decanting allows them to open up a little bit more.
I'm careful about what decanter I use for older wines. You're really wanting to preserve and maintain the delicate aromas, especially with Pinot Noir, but having a tall decanter like this allows you to carefully pour off sediment gently and maintain freshness and vitality. 
What are your favourite local food and wine pairings?
We're so lucky here in the Wairarapa, we have coast all around us only around 35 minutes away. From there we can get the most amazing crayfish, kahawai, all sorts of cod, all sorts of variety of fish, and these are so good with our Chardonnay and Pinot Gris. Then of course hunting, which is a really popular pastime here, especially for deer. For me the most amazing match with our aged Pinot Noir, is local wild caught venison.
Discover more about Helen and Ata Rangi on their website or Instagram, and shop our Jancis Robinson Collection here.