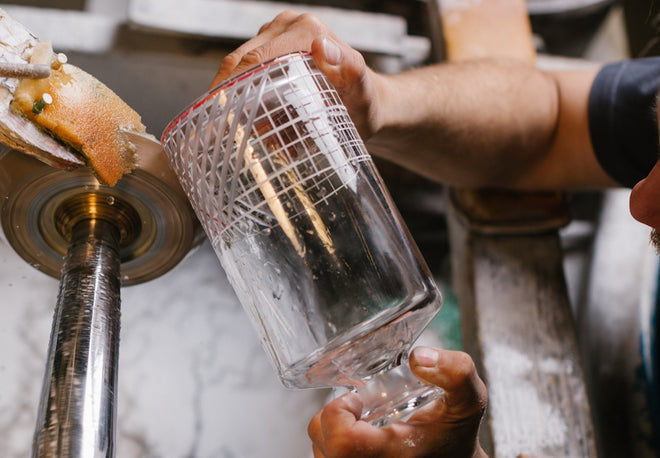 04/10/19
The Art of Glassblowing: An Interview with LuxDeco
Today kicks off the start of London Cocktail Week, so we thought it only fitting to feature the Q&A between Richard and LuxDeco, when they discussed the Art of Glassblowing and our favourite Cut Crystal collections
Today kicks off the start of London Cocktail Week, which means we're getting out our Cut Crystal: the perfect partner for a delicious cocktail. We wanted to give you something to read whilst you're sipping away, so here is the Q&A between Richard and LuxDeco, on the Art of Glassblowing and our favourite Cut Crystal collections:
"From hand-crafted decanters to diamond-etched whisky tumblers and champagne coupes, Richard Brendon's luxury glassware is nothing short of a work of art. Read on to hear the story behind the brand.
Who is Richard Brendon?
I founded Richard Brendon to celebrate and preserve craftsmanship seen in heritage industries around the world. Inspired by the intricate skill and detailed precision that has been honed over centuries in locations such as Stoke-on-Trent, I create exquisite collections that challenge the traditional and expected aesthetic.
From our London studio, which I opened in 2013, we create timeless tableware that brings together contemporary design and the very best techniques.
How is the glass collection made?
It all begins with the mould. We mostly use traditional wooden moulds, and it is through these that I, along with our artisan experts, perfect the forms and shapes of the glassware in my collections. 
Clear glass (the crystal) is melted in a furnace. Our craftspeople know the exact quantity of glass required to create each piece, and extract the desired amount from the flames.
Using a special glass-blowing instrument, they carefully blow a small bubble into the hot, molten glass so that it starts to take the size and shape of the piece being crafted.
The molten glass is then blown to the sides of our wooden moulds (or aluminium if we need a higher yield), and closed shut. You can generally tell if a glass is mouth-blown as the shape at the bottom of the glass will be slightly rounded.
The glass is removed from the mould straight after it has been blown, it's then cooled slowly in a warm air machine to avoid the glass breaking. 
From here, the focus is on perfecting the surface, which involves much cutting and polishing.
For the Diamond collection, the patterning occurs at this point. The type of crystal we use has the right softness at this stage. First, the outline is drawn onto the glass to create a grid, which is then cut across diagonally, by hand, to create the diamond patterning. Final polishing means there are no rough edges and the piece glistens – just like a diamond.
Where does the inspiration behind your glassware designs come from?
A little known fact is that lead crystal was first perfected over 400 years ago in England. The diamond cut quickly became one of the most popular patterns. I adore this design heritage, and celebrate it with my contemporary take on the traditional cut used in our Diamond collection.
As light passes through the crystal, it is brought to life by refractions which create a myriad of colours and glistening sparkles – one of my favourite details.
How long does it take to create a product from concept to completion?
It depends what sort of collection I am working on – some of my designs have been years in the making. Our recent collection of Creamware Dip took about eight months to get together, while some of our bespoke bone china collections for luxury hotels can be completed in around four months.
Cut crystal collections like Diamond and Fluted on the other hand take around a year to perfect the forms, production and final finish. I am a perfectionist and of course only put my name on products of the best quality and craftsmanship!
Where do you source your materials from and what standards do you insist on? 
We create our glassware collections with expert craftspeople in Slovenia, where you'll find generations of skill and expertise.
For our Jancis Robinson collection, we wanted a wine glass with the thinnest glass possible, which could only be created if it was mouth-blown by these specialists. So precise is the work that when we started, only one team of four were able to make them to our specifications.
When it comes to the cut crystal, I want my pieces to be heavyweight. This is a case of achieving the perfect distribution of glass into the mould, expertly mouth-blown. I then ask for the finishing touches to be perfectly polished surfaces and identical diamond cuts around the sides of every piece.
How would you describe the style of your glassware?
Contemporary yet timeless – a marriage of old and new
Do you have any exciting product launches coming soon?
We have just launched a new collection of contemporary casual creamware entitled Dip. This is named after a type of ceramic that actually pre-dates bone china in England. You can find this collection here. 
You can find the whole Cut Crystal collection here.