{ const idx = document.querySelector(`[data-id='${e.detail.variant}']`).dataset.idx; goTo(idx) })($event)" >
Coalport Saucer, c.1840 and Gold Reflect Teacup
Produced by Coalport c.1840, the exceptionally detailed hand-painted flowers in this design demonstrate some of the finest artistry from Stoke-on-Trent at the time. The early 19th Century saw the development of Romanticism, and patterns such as this truly celebrate a vibrant and colourful 'return to nature'.
Each teacup and saucer set comes with a handwritten gift card detailing the history of the antique saucer.

Collection Story
The Reflect collection started with our teacup, which brings life back to antique saucers missing their other halves by using platinum and gold gilding to create highly reflective cups. The mirrored cups reflect the patterned saucers, giving them a new lease of life and a place in contemporary homes.
Each cup is skilfully decorated and then paired with a saucer, all of which have been meticulously sourced from antique dealers across Britain. Reflect has now grown to include matching teapots, milk jugs, sugar bowls and coffee cups, to complete the collection.
Product Specification
H9cm, ø8.5cm / H3.5", ø3.3"
Craftsmanship Story
The production of pottery in Stoke-on-Trent dates back to at least the 17th century, and still today every piece of our bone china is made to the absolute highest quality by master craftspeople in Stoke-on-Trent.
The knowledge and experience passed down through generations of potters have contributed to the expert processes used in the creation of all of our bone china collections. By working in Stoke-on-Trent, we support this heritage British industry and work to preserve and refine the masterful craft techniques and processes that make it the best in the world.
Our Reflect collection perfectly marries the celebration of this masterful craft's rich heritage with the hope of its continued perseverance and survival.
Product Care
The antique saucers in our Reflect collection, by their nature, are extremely delicate. We would ask that you wash the pieces by hand only as they are not classed as dishwasher safe.
We recommend using warm water only, as cold or hot water can cause bone china to crack, and a mild detergent to hand wash the pieces. Scouring pads or abrasive washing agents must not be used.
Our Reflect teacups can be cleaned in a dishwasher - at a maximum temperature of 60°C.
Delivery & Returns
Available for Global Shipping.
Free UK deliveries for orders over £100.
We aim to dispatch your order within 24 hours of order confirmation (excluding weekends and bank holidays).
The standard delivery times once the order has been dispatched are:
UK: 2-3 working days
US & Canada: 5-8 working days
ROW: from 5 working days
Returns within 14 days of delivery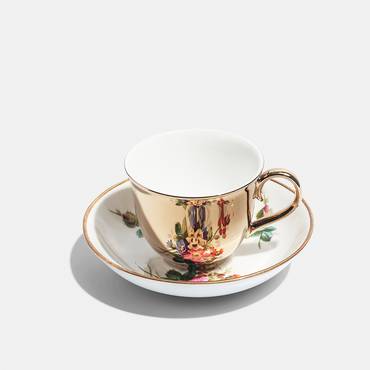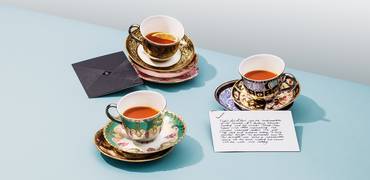 Handcrafted design
Every piece of our bone china and crystal has passed through several pairs of hands before it arrives at your table. That's what we mean when we say handmade.