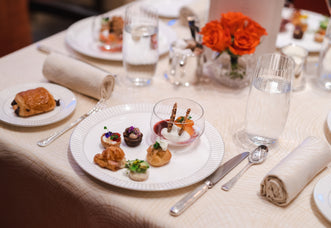 Hospitality
Since the conception of his brand in 2013, creating memorable moments around dining experiences has been paramount to Richard; whether at home, in a Michelin-Starred restaurant, or a beautiful hotel. With every project we seek to deliver exemplary service, resulting in a final product showcasing exceptional durability, quality and aesthetic. Our offering is versatile and detailed, tailor made to each client by taking their unique inspiration and requirements to bring their vision to life.
Handcrafted in Stoke-on-Trent, England, our bone china showcases a natural bright white quality and strength alongside contemporary design. We offer existing, customised or bespoke patterns in a wide array of bone china shapes, including pieces specifically designed for hospitality purposes. More information on our bone china services can be found below.
Our glassware collections also cater beautifully to hospitality venues. Our Jancis Robinson Collection and the universal wine glass provide the ultimate practical solution, while our Cocktail Collection is designed with the expertise of exceptional mixologists to create pieces of precision and elegance. Our cut crystal collections, meanwhile, are luxurious in weight and refined in design, and can be found in some of the best bars and restaurants across the world. Many of our glassware pieces can be engraved, and custom designs are also possible for larger projects. Please contact us below for further information.
Our creations can be found in many of the best-known names in the industry, and we are excited to continue to deliver the highest quality products to brands leading the way in the global hospitality space.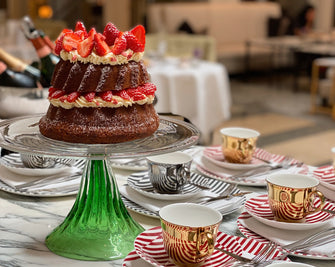 Bone China
Customised Designed
Each of Richard Brendon's bone china designs and ceramic shapes celebrate the pure quality of English bone china. With an array of patterns, from simple and refined to the more ornate, Richard Brendon has a design for every style. We understand clients often would prefer to create a bespoke experience for their guests, and a customised version of an existing design is often a more efficient and simpler way to achieve a unique product, rather than starting from scratch.
Every design can be customised to better suit the look and feel of a hotel or restaurant; whether it's the change of colour in a pattern or glassware engraving. If you're interested in finding out more about our customised designs, please contact us for the full brochure.
Get in touch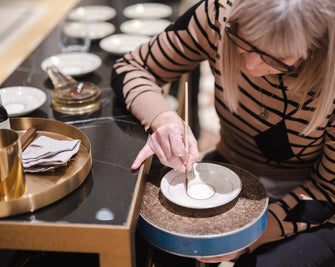 Bone China
Bespoke Designs
Whilst we have a wide assortment of existing bone china patterns, we understand partners may also wish to have something completely tailored to them for something truly exclusive. We are proud to have created patterns for some of the most prominent names in hospitality, taking their core values, design ethos and purpose into consideration at every stage of the process.
Beginning with a consultation for an overview of the project, followed by concept generation and rendered presentations ahead of bulk production, our bespoke service is tailor made to the requirements of every brand to ensure a seamless and exciting experience. If you're interested in finding out more about our bespoke design process, please contact us for further information.
Get in touch