Craftsmanship
WE BRING TOGETHER CONTEMPORARY DESIGN AND TRADITIONAL CRAFTSMANSHIP
We care deeply about the provenance of our products and are committed to working with and supporting the heritage craft industries that make each and every one of our pieces. By bringing together contemporary design and traditional craftsmanship, we believe it's possible to create timeless collections that will continue to be cherished and enjoyed for generations to come.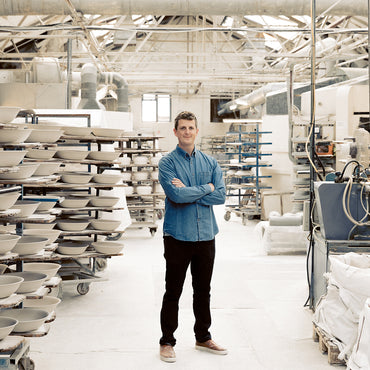 HANDMADE IN STOKE-ON-TRENT
The production of pottery in Stoke-on-Trent, England dates back to at least the 17th century, and still today every piece of our bone china is made to the absolute highest quality by master craftspeople in these same potteries. The knowledge and experience passed down through generations of potters has contributed tremendously to the expert processes used in the creation of all of our bone china collections today.

By working in Stoke-on-Trent, we support this heritage British industry and help to preserve and refine the masterful craft techniques and processes that make it the best in the world.
CRAFTED & CONSIDERED DESIGN
Every piece of our bone china has passed through several pairs of hands before it arrives at your table. That's what we mean when we say handmade.

We pride ourselves on working with a team of exceptionally skilled craftspeople in Stoke-on-Trent, most of whom have been slip casting, fettling and hand painting for decades. Needless to say we wouldn't work with anyone else to bring our designs to life.