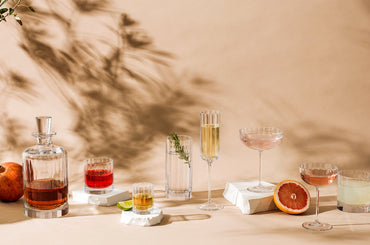 Collection
Fluted
Richard Brendon has partnered with Gleneagles Hotel, Scotland to develop the Fluted Cut Crystal Collection, which has been mouth-blown and hand-cut by our team of expert craftspeople in Slovenia.
Drawing inspiration from the decadent cocktail culture of the Art Deco 1920s, the Fluted stemware is light and perfectly proportioned, while the tumblers are reassuringly weighty.
In the Richard Brendon signature style, Fluted combines just the right amount of traditional and contemporary elements to create a progressive yet timeless collection.
A gorgeous spirits decanter that calls to mind the decadent days of the Jazz Age. Mouth-blown and hand-cut in Slovenia, the quality of the craftsmanship really shines through.
Olive Magazine
Handcrafted design
Every piece of our bone china and crystal has passed through several pairs of hands before it arrives at your table. That's what we mean when we say handmade.