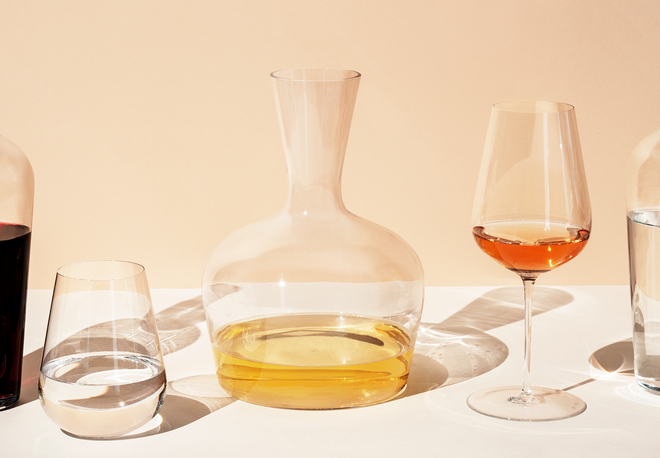 07/07/23
Q&A CELEBRATING 5 YEARS OF THE JANCIS ROBINSON COLLECTION | JANCIS ROBINSON X RICHARD BRENDON
Pairing wine expertise and refined design, the Jancis Robinson Collection is the result of a truly collaborative cross-disciplinary partnership between Richard Brendon and world-renowned wine expert Jancis Robinson OBE MW. Discover our exclusive Q&A between Richard and Jancis in honour of our five year anniversary of the collection.

HOW HAS THE JANCIS ROBINSON COLLECTION GROWN SINCE ITS LAUNCH 5 YEARS AGO?

JANCIS: Not at all!  The whole point is to have a collection that is limited to only essential glassware: the perfect and perfectly versatile wine glass plus a
decanter each for young and mature wines. I have never seen the point of different glasses for different wines - especially when so many of us are short of space.

RICHARD: Whilst, as Jancis says, the whole point of the collection is not to
physically grow, geographically is has really taken on a life of its own. We now
have distributors in the USA, Mexico, UK, Norway, Spain, Portugal, China, New Zealand, Japan and Taiwan, with more new distributors due to come on board this year. We've sold in excess of 100,000 glasses to more than 20 countries. It's amazing to see the glasses being used in so many amazing restaurants and wineries around the world.


WHAT HAVE BEEN THE BIGGEST HIGHLIGHTS FOR YOU SINCE THE LAUNCH?

JANCIS: We probably had the best time launching the collection in Mexico City. A great place with some wonderful, world-famous restaurants, in which our glass is the only one used!

It was also particularly fun launching it in New York back in 2018. Wine importers Skurnik have really got behind the collection, helped by some enthusiastic responses/endorsements from the likes of prominent wine authorities such as Terry Theise and Raj Parr. And it has long been quite a thrill to go and taste at revered wine producers such as Pierre-Yves Colin-Morey in Burgundy and Salon in Champagne to find that they use our glass in their tasting rooms.

RICHARD: We knew we had good collection before we launched it...
however, seeing so many amazing wine makers and wineries all around the
world using our wine glass and saying that their wines show better in them than in any other glass has been incredibly satisfying. 
It's also been great to see our partners around the world doing so well with
the collection. Particularly in markets where we weren't doing business already,
such as Japan, Taiwan and New Zealand. I think there are probably more JR wine glasses per capita in New Zealand than anywhere else in the world!

HAVE THERE BEEN ANY UNEXPECTED MOMENTS OR CHALLENGES?

JANCIS: Covid, Covid and Covid. The pandemic led to a shortage of glassblowers and, as for all other suppliers of wine glasses, a frustrating shortage of stock.

RICHARD: Scaling up our production to cope with demand has certainly been
challenging, although arguably it's quite a nice problem to have! We have made
a huge amount of progress here in the last 12 months. In terms of surprises, it's
always a lovely moment when I walk into a restaurant or bar and see our
glassware on the tables... a hugely gratifying feeling! 
WHERE DO YOU SEE THE COLLECTION GOING IN THE NEXT 5 YEARS? DO YOU HAVE ANY PARTICULAR HOPES OR GOALS?

JANCIS: I'm very bad at looking that far ahead. I'd just like to see more and more people getting the amount of pleasure and wine expression that I enjoy by using our glass. And I'd love to find a suitable distributor in France where there is such potential and still too much poor-quality glassware. I'd also love to see more UK wine professionals realising that they can hire our glasses from Sensible Wine Services for the tastings they organise, costing no more than the usual machine-made glasses. They make such a different to how well the wines show!

RICHARD: I'd like the Jancis Robinson Collection to become the most desired and respected collection of wine glassware in the world. I'd like to see more
consumers understanding they don't need lots of different glasses and that the
JR wine glass is the only tool they need. 
HOW WILL YOU BE CELEBRATING THE ANNIVERSARY?

JANCIS: We published a celebratory article on JancisRobinson.com and we're
planning a special magnum dinner with fellow Master of Wine David Gleave
whose company Liberty Wines distribute our glass to restaurants and bars in the UK.

RICHARD: By raising a Jancis Robinson Wine Glass on as many occasions as
possible! We'll be particularly celebrating as a team over the summer, and also
with a series of events including a wine tasting with Jancis, hosted at Hedonism
Wines in September. We hope to see as many people as possible celebrating
over the summer – please do remember to tag us so we can see you all enjoying
the glassware!

Discover the Jancis Robinson Collection at richardbrendon.com, as well as
retailers including Harrods, Selfridges, Bloomingdale's and Saks. Sign up for
more information on our summer events, which will be shared exclusively via our newsletter, and tag @richardbrendonstudio and @jancisrobinson whenever you raise a Jancis Robinson Glass this summer!