Craftsmanship
WE BRING TOGETHER CONTEMPORARY DESIGN AND TRADITIONAL CRAFTSMANSHIP
We care deeply about the provenance of our products and are committed to working with and supporting the heritage craft industries that make each and every one of our pieces. By bringing together contemporary design and traditional craftsmanship, we believe it's possible to create timeless collections that will continue to be cherished and enjoyed for generations to come.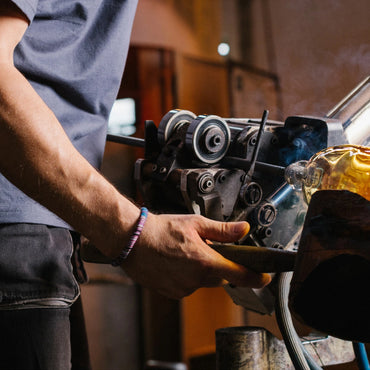 Our crystal is mouth-blown in Slovenia, a country world-renowned for its glass-making heritage.
We are in awe of the skill and precision that goes into glassblowing and cutting, which is why each of our crystal collections have been made using century-old techniques that have been passed down through generations.

By using these techniques, we're able to make our Jancis and Cocktail collection so brilliantly lightweight, thin rimmed and elegantly stemmed. It's also the reason our Diamond and Fluted crystal pieces are so tactile and weighty.
THE JANCIS COLLECTION
There are few who have the skill to make lead-free crystal as fine and light as Richard and Jancis required for the Jancis collection.

The trickiest bit was certainly getting the quality and weight of the products just right. Jancis and Richard went through several rounds of prototypes, to ensure we delivered a final product that met every single one of our requirements perfectly.

That our glassblowers persevered, and very quickly learned how to make the pieces perfectly, is a real testament to their phenomenal skill and dedication to the final vision we all shared.
CONSIDERED CUT CRYSTAL
Developing our cut crystal designs is no easy feat; indeed it took our teams a year and a half to perfect the forms for our Diamond and Fluted collections.

The weight, clarity and tactility play a central role in our designs, so it was crucial we worked closely with our team of craftspeople to achieve the look and feel we have today.