{ const idx = document.querySelector(`[data-id='${e.detail.variant}']`).dataset.idx; goTo(idx) })($event)" >
V&A Georgian Lilies Large Mug
Our Georgian Lilies pattern puts a twist on the classic design from the Worcester and Caughley factories from the late 18th Century. The original design was made famous when King George III and Queen Charlotte visited the Worcester porcelain factory in 1788 and placed an order for this particular "Blue Lily" design for their breakfast service, after which it then became widely known as Royal Lily. We have added our twist to this timeless design by introducing caterpillars as well as a hidden butterfly.
Collection Story
Richard Brendon has collaborated with the V&A to create a collection of exquisite bone china, in order to shine a light on the golden era of Georgian ceramics. The V&A collection consists of four striking saucers to pair with his signature gold and platinum reflective teacups.
The original Reflect collection breathes life into 'orphaned' antique saucers, which have lost their matching teacups over time. When the reflective cups are placed onto the patterned antique saucer, they perfectly mirror the design below, making it appear as though the pair have always belonged together.
For the first instalment of the collaboration, Richard has selected four of his favourite patterns from the V&A's vast archives and re-imagined them with playful and whimsical twists. A great deal of consideration has gone into the research, design and creation of each of the saucers; the attention to detail in the patterns, illustrations, printing and manufacturing is second to none.
To bring the collection to life, Richard has partnered with illustrator Chris Martin and, as always, the phenomenally skilled potters of Stoke-on-Trent, the home of British ceramics.
Craftsmanship Story
The production of pottery in Stoke-on-Trent dates back to at least the 17th Century, and still today every piece of our bone china is made to the absolute highest quality by master craftspeople in Stoke-on-Trent.
The knowledge and experience passed down through generations of potters have contributed to the expert processes used in the creation of our bone china collections. By working in Stoke-on-Trent, we support this heritage British industry and work to preserve and refine the masterful craft techniques and processes that make it the best in the world.
Product Care
In order to preserve the intricate gold and platinum detailing on the mugs from this collection, we would recommend hand washing these items as they are not classed as dishwasher safe.
Pieces from the V&A Collection are not safe to use in the microwave due to their gold and platinum detailing.
Stubborn stains can be removed by soaking in a mild bleach solution for up to one hour without damaging the china. Scouring pads or abrasive washing agents must not be used.
Delivery & Returns
Available for Global Shipping.
Free UK deliveries for orders over £100.
We aim to dispatch your order within 24 hours of order confirmation (excluding weekends and bank holidays).
The standard delivery times once the order has been dispatched are:
UK: 2-3 working days
US & Canada: 5-8 working days
ROW: from 5 working days
Returns within 14 days of delivery.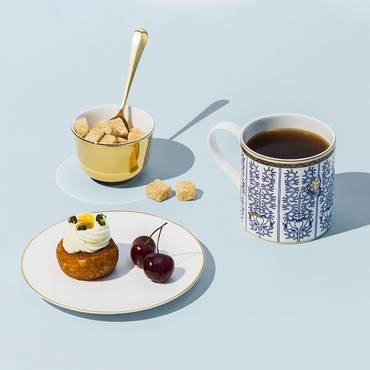 Handcrafted design
Every piece of our bone china and crystal has passed through several pairs of hands before it arrives at your table. That's what we mean when we say handmade.