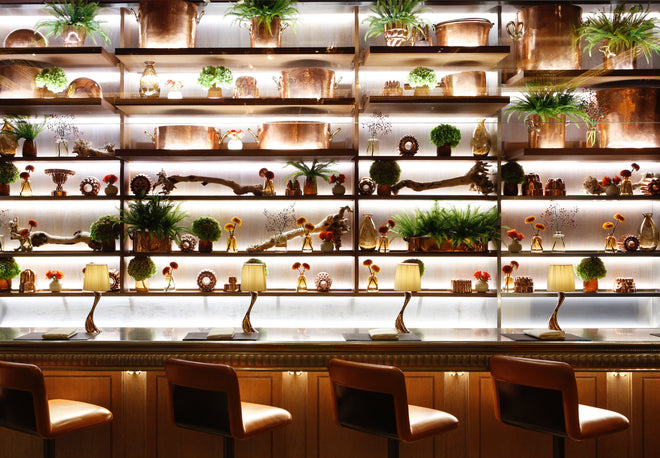 14/11/19
Meet Tom Booton, Head Chef at the Dorchester Grill, London
You could broadly say that most 26 year olds are just starting to get into their career groove. Few 26 year olds are already at the top of their game, and Tom Booton is one of these impressive exceptions, having been recently appointed head chef of 
The Grill at The Dorchester
.
You could broadly say that most 26 year olds are just starting to get into their career groove. Few 26 year olds are already at the top of their game, and Tom Booton is one of these impressive exceptions, having been recently appointed head chef of The Grill at The Dorchester.
Earlier this week The Grill re-launched with Tom's personal interpretation of a modern-day British grill. You can expect more relaxed interiors, a statement Pudding Bar, Chef's Table, and some insanely delicious cocktails concocted by award winning bartender, Lucia Montanelli. (See below Tom's favourite!)
Alongside him are an equally young team, all under the age of 30, namely sous chef Adam Nevin, head sommelier Eugenio Egorov and general manager Jennifer Santner. Together they bring a vibrant energy across both the food and the service, celebrating one of London's longest standing restaurants.
We're a big fan as you can probably tell, and I'm sure you will be too once you try Tom's Prawn Scotch Egg and Lobster Thermidor Tart.
Tom, outside of the kitchen, what is your idea of the perfect pairing? 
A night in with a good film and a take-away curry
Who is on your restaurant speed dial?
Smoking Goat never fails to impress, it has double-tasty food and a really fun atmosphere
What's your house Wine, Cider, Beer and Cocktail?
Veuve Clicquot, Chapel down's Curious cider, Asbury Park Brewery, Gentleman Tom using The Dorchester Old Tom Gin
What is the one ingredient you couldn't possibly live without?
My team
Where is London's best kept secret?
I'm a huge fan of Indian cuisine, Rajput Restaurant in Shepherd's Bush is definitely one you should check out
Where would we find you outside of London?
Singapore is one of my favourite places to visit, I recently went there and dined at Restaurant Zén which is out of this world. We were there to see my partner's family and were blown away by Björn Frantzén's concept and menu
What is your favourite Richard Brendon collection?
We have Richard's water glasses from his collaboration with Jancis Robinson, the best on the market in my opinion
Stemmed or Stemless?
Stemmed
You've just woken up: tea or coffee?
Coffee, milky with a generous spoon of brown sugar
Have you ever been behind a potter's wheel?
I get the experts to make my pottery, so very pleased to be working with London's best creatives like Richard and also Laura Hughes in Peckham
Where do you start your Christmas shopping? 
Truthfully its usually a last minute panic on Christmas Eve, paying for the fast delivery
What's the best gift you've ever given?
My girlfriend asked for a Dior scarf once, little did I know the scarf was for her handbag…
What's the best gift you've ever received?
A PS2 in 2002, aged nine it was the best thing you could possibly get!
What's your go-to dinner party dish?
Beef Wellington never fails to impress, it's always a crowd pleaser
How do you switch off?
A walk in Hyde Park, before a couple of pints in the pub with some friends
Richard loves sourcing antique saucers - what do you collect?
The Dorchester has its own toy duck for guests, all the hotels in the collection have one, I've started collecting them in the kitchen at The Grill
How would you describe your personal style?
I am all about comfort, keep it simple
Credit:
Photos from The Dorchester