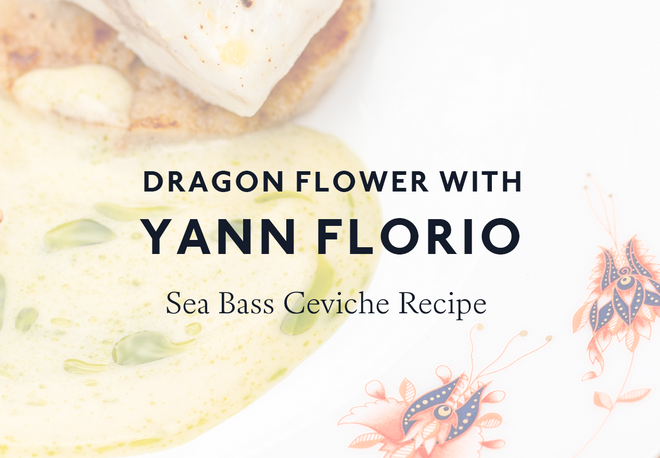 18/10/23
Dragon Flower with Yann Florio: Sea Bass Ceviche | Richard Brendon
Dragon Flower, a fusion of art and gastronomy, invites you to embark on a sensory journey like no other. Our collaboration with Chef Yann Florio, showcases exceptional ingredients, presentation and exclusive recipes.
Dragon Flower with Yann Florio
Introducing Dragon Flower, an exquisite extension of our renowned V&A Series. For our latest collection we worked with the culinary artist Yann Florio, a third-generation chef hailing from the picturesque region of Lorraine in Northeastern France. Yann's journey through the world of gastronomy is nothing short of remarkable, having honed his skills at the prestigious Saint Andree Culinary Arts & Pâtisserie institution for five years before embarking on an apprenticeship under the tutelage of Anthony Pean at the Michelin-starred La Pomme Canelle in Luxembourg.
At the age of 23, Yann Florio ascended to the position of head pastry chef at the upscale London Mayfair establishment, Corrigan's. His talent soon made him a sought-after figure, collaborating with consultancy teams on corporate events across Europe. By the age of 26, he ventured into entrepreneurship, founding his own luxury catering company. Yann's illustrious career includes managing a kitchen adorned with a prestigious 3 AA rosette rating, reaching the finals of the BBC's MasterChef The Professionals in 2019, and collaborating closely with restaurants worldwide to craft innovative menus.
Yann was entrusted with the task of bringing our intricate and floral designs to life through his enigmatic dishes. The first course, a Sea Bass Ceviche with Sea Bream Crudo and Marinated Radish Petals, embellished with Ikura and Lime Dashi Jelly, exemplifies his creative approach. This dish was carefully crafted to harmonise with the overarching floral theme and the refined aesthetics of our dinner plates.
Inspired by the dishes Yann prepared for our Dragon Flower Collection, discover a simple but elevated recipe for a Sea Bass Ceviche. 
The Sea Bass Ceviche recipe, which serves as the centrepiece of this exquisite creation, showcases Yann's dedication to culinary craftsmanship:
Ingredients:
1 Fillet of Sea Bass
60 grams of Soy Sauce
30 grams of Mirin
30 grams of Lime Juice
2 Bird's Eye Chilies
Method:
Begin by combining the soy sauce, mirin, and lime juice to create the flavoursome dressing.

Prepare the chilies by removing the seeds and finely dicing them into a small brunoise. Add the fiery morsels to the dressing for added depth of flavour.

Carefully debone the sea bass fillet and delicately slice it into thin, elegant pieces.

Gently dress the sea bass slices with the prepared dressing, ensuring each piece is in contact with the bold flavours.

Plate the sea bass ceviche onto our Dragon Flower 28cm Coupe Dinner Plate, creating a visual masterpiece that resembles a radiant flower.

To enhance the presentation, garnish with edible flowers and delicate micro herbs, adding both colour and a subtle, herbaceous note.

Finally, elevate the dining experience by serving the lime dashi in our Dragon Flower Medium Teapot, allowing guests to savour this exquisite dashi/consommé at their leisure.
Dragon Flower, a fusion of art and gastronomy, invites you to embark on a sensory journey like no other, where each dish is a masterpiece and every bite a revelation. Yann Florio's mastery of flavours and presentation showcases our dinnerware to perfection, where floral and intricate designs meet sumptuous, unforgettable tastes. Explore Dragon Flower, at richardbrendon.com.