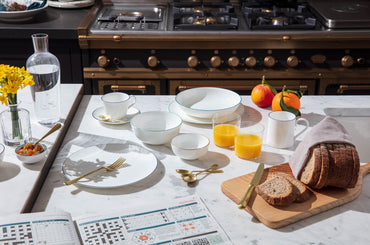 Collection
Line
Line celebrates the pure white quality of English fine bone china and Richard Brendon's refined ceramic shapes.
Designed with versatility in mind, Line can be paired seamlessly with a variety of Richard Brendon collections.
It's ideal for breaking up patterns and creating dynamic table settings for any occasion, whilst also providing a clean canvas perfect for food presentation.
You can now design your own range of Line products by choosing one of 8 exceptional ceramic colours to customise your collection and perfectly reflect your unique taste.
Handcrafted design
Every piece of our bone china and crystal has passed through several pairs of hands before it arrives at your table. That's what we mean when we say handmade.