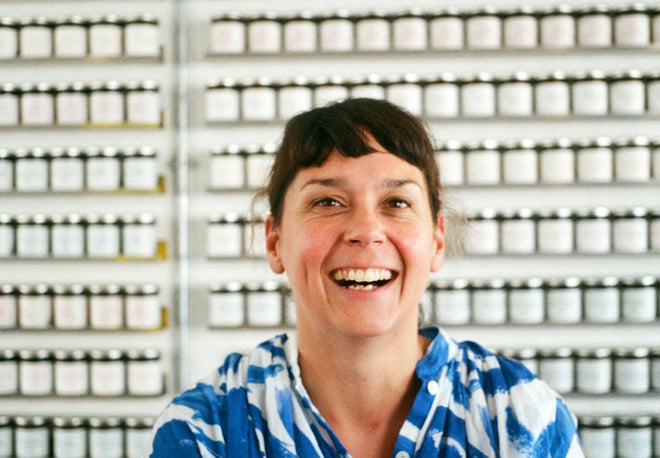 16/03/22
MEET LILLIE O'BRIEN, FOUNDER OF LONDON BOROUGH OF JAM
Mother's Day is just around the corner, and perfecting the Mothering Sunday breakfast is the first step in planning the day, so we sat down with London Borough of Jam founder Lillie O'Brien to talk all things preserves and how to master the ultimate Mother's Day breakfast. 
With Mother's Day around the corner, many of us are starting to put together a plan of action on how best to spoil our brilliant mums this year. In the studio, most of us agree that a bountiful breakfast is the ultimate start to the day, served in bed for the brave few who can deal with the crumbs!
In our opinion, no breakfast spread is truly complete without a selection of London Borough of Jam preserves, so we sat down with LBJ founder, Lillie O'Brien, to talk about all things jam, the importance of seasonal ingredients, and how to master the perfect Mother's Day breakfast. 
Read the interview below and scroll for Lillie's Yorkshire Forced Rhubarb and Grappa Jam recipe; a true triumph that will win you major brownie points on Sunday morning! 
What inspired you to found London Borough of Jam?
My fascination with jam and preserving started when I was growing up in Melbourne, Australia. We grew our own produce at home and I used to help my mum make preserves with the gluts of fruit and vegetables: tomatoes, figs, lemons and basil– all ingredients that like the heat. I was so excited by the process of trapping flavours and colours in a jar that would then sit untouched for as long as two years before we would twist off the lid and immediately be transported back to their spirit. 
My early experiences of preserving memories and stories in jars were the inspiration for my career in food, leading me to several restaurant kitchens on the other side of the world and all the way back to jam.
It wasn't until 2008, when I started working as a pastry chef at St. John Bread and Wine in London, that I had the chance to revisit my early love of picking and preserving. The cooking ethos at St. John is not only to use everything from 'nose to tail', but also to respect seasonality.
I had never before worked in a restaurant that honoured ingredients like this. It was really exciting to celebrate produce when it was in its prime. 
Preserving was also a huge part of the pastry kitchen because we had such limited supply in winter; after a while, even chocolate, lemons and apples could become a bit gloomy. It was crucial for us to be able to bottle the brightness and optimism of spring, summer and autumn to serve in the restaurant during the darker months. 
I started making my own jams at home as a bit of a hobby, initially. Then, in 2011, I started running a stall at my local market every second Sunday to test out the jams I was making at home on real customers, rather than friends and family.
In late 2012, I found a small retail space in the adjacent street to my house in Hackney and I turned it into a little jam shop and storeroom. To this day, I think LBJ is still London's only jam shop. I sell a lot of my jam wholesale and open the shop on weekends, where I like to test out new ideas on my loyal regular customers.
What makes a LBJ preserve so special? 
The flavour is honest and unadulterated; it is fruit-driven, rather than sugar-driven. When tasting LBJ preserves you will always taste the fruit first followed by the sugar and a special complementary flavour. We use natural, unrefined sugars and no commercial pectins. LBJ preserves contain no more than 4 ingredients and are dairy free & vegan.
The preserves combine seasonal fruits – sourced in the UK, France, Italy and Spain – such as Victoria Plums, Greengages, Raspberries, Rhubarb and Seville Oranges with unusual additions such as bay leaf, cardamom, cocoa nibs, lemon verbena, wild fennel pollen and verjuice, which we believe enhance the fruit flavours and maintain natural, respectful combinations. 
How do you find inspiration for new preserves? 
I basically follow the seasons and when something is in season I will create a jam and do some recipe testing. When the fruit is tasty and ripe we will batch it up and make enough to last the year. Inspiration with flavour combinations can come from nature, travel, heritage and my immediate surroundings. 
I can't think of many cultures that don't have a tradition of making preserves. Jam has a very long pedigree, dating back to first-century Rome. And throughout history jam has always been democratic: food for the people, not just the preserve of the few. 
There are some strong traditions of preserving passed down the generations. It seems to me that the many benefits of preserving, like many other time-honoured techniques, such as fermenting, microbrewing, sourdough baking, have been rediscovered, at least here in the UK. Younger people today are embracing artisanal trades and are unafraid of experimenting, which is wonderful. Jam-making is a timeless craft. East London, where I live, is rich in cultural diversity and I'm lucky enough to be exposed to many palates and traditions, so many of which I love to playfully reflect in my jams.
It's lovely to capture a moment in time when you are making jam, as if to preserve a story by stirring it into the pot. That's why it's rewarding to seek out something special, a combination that's entirely seasonal and out of the ordinary, and make a moment of it. 
Which flavours of LBJ are your favourites? 
It is so hard to decide but I think the Damson & Black Pepper is one of my favourites as I love the sharpness of the plums and it is a very versatile product. I have it on my porridge in winter, cheese on a Friday night and on yoghurt in summer. The most popular jam I sell though is the Rhubarb & Cardamom, people go wild for it!
Why is working with natural and seasonal ingredients so important to you?
Cooking at St John and living in the UK really taught me how to appreciate seasonal ingredients as the season here for most fruits is fleeting. When something is in season it tastes so much better .
Eating strawberries in winter just doesn't make sense, and then when they do come into season it is just so much more exciting! 
What is your favourite way to enjoy LBJ?
Because of the high fruit content of LBJ products I always recommend to eat them in so many ways, of course they are all delicious on toast but they equally work so porridge, ice cream, yoghurts, cakes, cheese, charcuterie, roasted birds & meats, granola, toasted brioche, scones and tarts just to name a few!
We agree with Lillie, there is really no wrong way to enjoy LBJ! We even turned to them during pancake day this year. 
Yorkshire Forced Rhubarb and Grappa Jam Recipe
Makes 5 x 220g jars
Out of respect for this very special vegetable, Lillie explains that it is really important to make this jam in small batches, otherwise it ends up boiling for too long and you lose the vibrancy of both colour and flavour. As the Yorkshire forced rhubarb season comes to an end you will notice that a few boxes of seconds (thinner stalks) might start appealing in markets, which are cheaper in price. These are the last of the stems that the crowns would have produced at five to six week of maturation and are perfect for jam-making. 
Try to select the pinkest pieces possible so that the jam has a strong colour. 
Ingredients 
1kg Yorkshire Forced Rhubarb 
600g Caster Sugar
Juice of 1 Lemon 
100ml Grappa (optional but we think essential!) 
Method
Trim the leaves from the rhubarb stalls and discard. Wash the stalks in cold water
Slice the rhubarb into 2cm pieces and put in a heavy-based preserving pan. Set the pan over a medium heat and slowly cook the rhubarb until it starts to break down, being careful not to let it catch on the bottom of the pan. 
Once it has started to soften, slowly add the sugar and lemon juice. 
Bring to the boil and boil for 8 minutes, stirring so that it doesn't catch, or until the jam reaches setting point at 105 Celsius. You may need to turn the heat down a little if this does start to catch. 
Turn off the heat and leave the jam to rest for 5 minutes, stirring every minute to distribute the air bubbles.
Pour into warm sterilised jars and seal immediately. 
Store in a cool dry place. 
Discover more about Lillie and London Borough of Jam on their website or Instagram, and explore our Spring Breakfast edit filled with LBJ here.