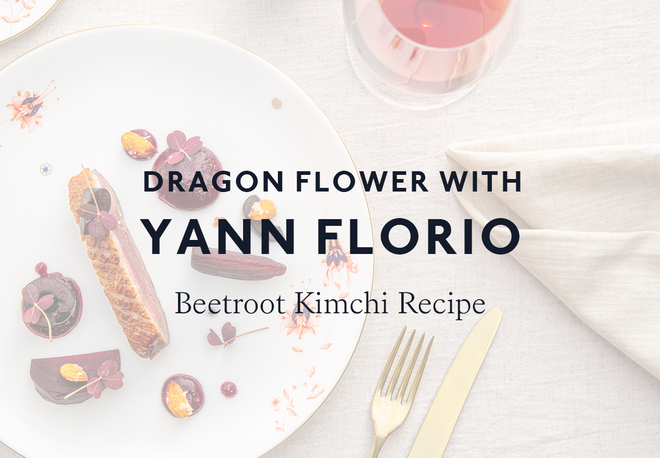 20/10/23
Dragon Flower with Yann Florio: Beetroot Kimchi | Richard Brendon
The second instalment of our Dragon Flower X Chef Yann Florio series, discover how to plate beautiful, delicious ingredients with our intricate Dragon Flower pattern, including an exclusive recipe for Beetroot Kimchi.
Dragon Flower with Yann Florio
As we delve into the second phase of our culinary journey alongside Dragon Flower and Yann Florio, we find ourselves at the main course. The main event unveils the exceptional talents of Yann, who has expertly prepared a grilled duck breast dish that is sure to delight the senses and tantalise the palate. 
Yann has chosen to create a masterpiece using elements from our Dragon Flower colour palette, drawing upon the captivating red and blue hues found in our motifs. The result is a remarkable dish featuring grilled duck breast, garum, beetroot, and wood sorrel.
Beetroot Kimchi Recipe
Ingredients:
3 large beetroots
2 peeled pears
80 grams of peeled and finely chopped ginger
1 head of garlic, peeled and chopped
2 birds eye chilli peppers
30 grams of salt
1 litre of water
Instructions:
Slice the beetroot into thin strips using a spiralizer or mandolin.
Slice the pears into thin strips as well.
Combine all the ingredients in a Kilner jar.
Keep the jar at room temperature, away from direct sunlight, for a minimum of 10 days.
Enjoy your homemade Beetroot Kimchi as an accompaniment to your dish of choice, served on our Dragon Flower Coupe Dinner Plate (28cm) for the ultimate indulgence. 
Dragon Flower, a fusion of art and gastronomy, invites you to embark on a sensory journey like no other, where each dish is a masterpiece and every bite a revelation. Chef Yann Florio's mastery of flavours and presentation showcases our dinnerware to perfection, where floral and intricate designs meet sumptuous, unforgettable tastes. Explore Dragon Flower, at richardbrendon.com.