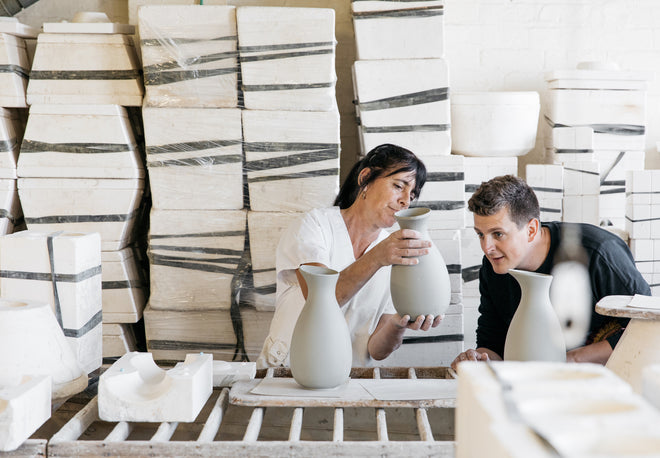 21/09/19
Lifting the lid on the Dip Collection
Our highly anticipated Dip Collection launched earlier this month exclusively with The Conran Shop. Richard had a chat with the team, discussing the inspiration for Dip, starting his own business and the importance of preserving British heritage craftsmanship. 
Our highly anticipated Dip Collection launched earlier this month exclusively with The Conran Shop. Richard had a chat with the team, discussing the inspiration for Dip, starting his own business and the importance of preserving British heritage craftsmanship.
What was the inspiration behind the Dip collection?
My interest in earthenware was piqued by a trip to the V&A when I got the chance to look at the archives of creamware and slip decoration. The pieces were simple, and the designs naive yet charming – I wondered how we might be able to bring back the production style of these pieces with a modern design twist. I founded my business with a bone china collection made in Stoke-on-Trent, but I always knew there were other amazing materials developed here in England that I could use one day. I wanted to create a collection that would offer a refined yet relaxed contemporary dining experience and the shapes we developed for Dip are perfect for the modern home. 
How did you select the colour palette?
Cobalt must be the most prevalent colour from the history books of English ceramics – many will remember it from well-known Willow patterned plates. For Dip, I selected Smoke and White to create a trio that complements each other and creates a relaxed natural palette.

Do you have a favourite piece in the collection?
I must say, I am a bowl fan – from the large serving pieces that are great for a dinner party, down to the small olive bowl we created for this collection. My absolute favourite is the large pasta bowl – I have been using mine at home to serve salads. Luckily my fiancée is a huge fan of the collection!
What are the benefits of working with Creamware?
Preceding bone china production in Britain's pottery heartland, Creamware is light-coloured, refined earthenware developed in Staffordshire by Thomas Whieldon in the mid-18th Century. At the time, this new production method improved the quality and strength of the natural ball clay sourced from the surrounding area to create a finer, whiter body. Coupled with brilliant glassy glaze, the result proved ideal for domestic ware and remained popular until the 1840s. Creamware is a little less precious to deal with than bone china, which can be much harder to get the perfect place.   
We start with the 'ware' – this is the naked ceramic made into our shapes using a light coloured clay. The jug in the collection is actually 'slip-cast' using a bespoke mould and traditional technique whereby the liquid clay is poured in and left for a set period before the excess is poured out and left to dry. All shapes are fired before decoration to harden them. At the moment we have just one craftsperson trained to skilfully hand-dip each piece in our three glaze colours – it is rather time-consuming, but we must honour these time-proven techniques. Finally, each piece is hand-sprayed with a clear glaze, dried, and placed carefully in the kiln for overnight firing. 
What is your favourite meal to enjoy with Dip?
A salad of in-season British heritage tomatoes, Laverstoke Park Farm buffalo mozzarella, basil and mint dressed with an excessive amount of salt and a generous lashing of good quality olive oil with a hunk of Dusty Knuckle sourdough to mop up all of the delicious juices and a medium-rare rib-eye steak cooked on my BBQ.
When are you at your most creative?
When working with others. Last year I collaborated with wine expert Jancis Robinson MW to create a stunning collection for the enjoyment of wine. I learned so much from time spent with Jancis – her vast knowledge of wine and insight into what was needed from our wine glass spurred on my creativity and resulted in pieces that are not only perfectly functional but look beautiful. I'd say the same when working with the skilled craftspeople that bring our collections to life – spending time in the factories of Stoke helped me to hone the technique we employ for 'Dip', that brings together a traditional British production process with bright graphic patterns.
What led you to establish your brand?
It all started back in 2013 after a walk down my local Portobello Road. I always have my eye on the antique sellers, and I noticed a plethora of orphaned antique saucers that sat stacked without their cups. I figured that saucers break less often than their counterparts, and dreamt up a way to pair them up with new cups that would give them a new lease of life. I went on to create my first collection 'Reflect' in Stoke-on-Trent, an area of England so rich in pottery history and inherited skill. This helped me create my brand and mission – to preserve and regenerate the skills honed here over centuries. Just a few years on, this remains at our core today and we are committed to producing all of our bone china and creamware in Stoke-on-Trent and are dedicated to the loyal craftspeople that realise our collections.
Why is Stoke-on-Trent so integral to British manufacturing?
It was the first place anywhere in the world to have a modern factory with specialisation in the workforce. This was a Josiah Wedgwood innovation and before the industrial revolution kicked off. There was so much innovation in Stoke-on-Trent and it led the way and set the standards for ceramic manufacturing around the world. That is until the big brands started moving production overseas. We are still capable of making the best quality bone china in the world – in England. We still have the skills but if we don't act quickly, we are at risk of losing it altogether.
What's next for the Richard Brendon brand?
Who knows – I have an endless interest in everything involved with the enjoyment of food and drink…  
Click here to shop the collection