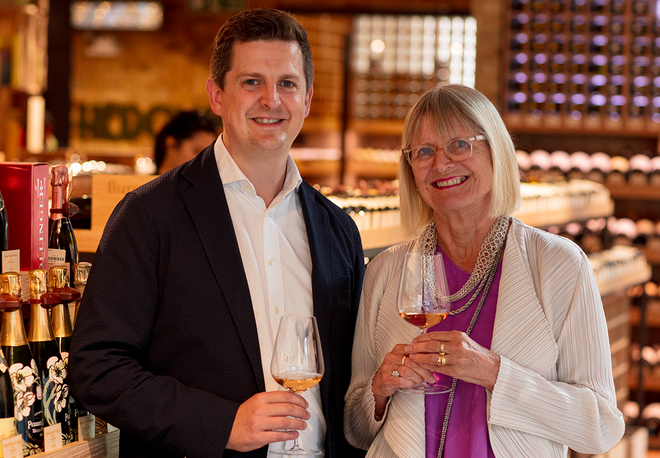 08/09/23
Celebrating Five Years of the Jancis Robinson Collection | Richard Brendon
We are incredibly proud to have reached the five year milestone since the founding of our Jancis Robinson Collection. In light of this significant occasion, we hosted a celebratory tasting at Hedonism Wines, Mayfair.
Celebrating five years of the Jancis Robinson Collection
We are incredibly proud to have reached the five year milestone since the founding of our Jancis Robinson Collection. In light of this significant occasion, we hosted a celebratory tasting at Hedonism Wines, Mayfair.

The Jancis Robinson Collection began when Jancis Robinson OBE MW identified a lack of a perfect wine glass, particularly for white and sparkling wines. Richard Brendon took on the challenge of creating this ideal glass with specific criteria; it had to be gossamer-thin glass, have a tall stem for swirling without affecting temperature, a curved bowl for oxygen contact and aroma capture, a large opening for full aroma enjoyment, and be dishwasher safe. The collection, launched in 2018, is now acclaimed as the best wine glass by industry experts and is found in many renowned restaurants, bars, and wineries worldwide.

To commemorate the anniversary of Richard Brendon's Jancis Robinson Collection, we hosted a special wine tasting at Hedonism Wines alongside Jancis Robinson herself, featuring a selection of exceptional wines which would all, of course, be tasted in our universal wine glass. 

Founded in 2012 and situated in the bustling heart of London's Mayfair, Hedonism Wines stands as a premier boutique for fine wines and spirits, garnering significant attention as one of the most noteworthy wine ventures of recent times. Visitors are provided with the unique chance to experience nearly 50 different wines in-house, thanks to an array of five cutting-edge Enomatic machines. This provided the perfect setting for our grand celebration, offering an exquisite backdrop that set the stage for an unforgettable evening.  

To start our wine tasting, we selected Gusbourne Rosé 2018; we felt an English Sparkling would be particularly appropriate. The wine is a blend of estate-grown Pinot Noir, Chardonnay and Pinot Meunier, with aromas of soft summer berries and floral notes, truly setting the stage for a bright and refreshing start to our evening... especially after a very warm day in London.

Whilst some may be surprised the glass can also serve sparkling wine, it is in fact an excellent canvas for showcasing the meticulous craftsmanship of sparkling winemakers in comparison to the typical choices. The glass truly allows the brilliant pink hues of the wine to shine in a way that traditional flutes wouldn't be able to replicate. Moreover, the glass' overall design exudes elegance, ensuring that the drinking experience remains as special and refined as it would with a flute or saucer. It's a testament to how this universal wine glass can enhance the appreciation of sparkling wines and highlight the hard work that goes into crafting them.

Following our sparkling selection, we presented La Rocca Soave Classico Pieropan Magnum 2021. Nino Pieropan believes excellence derives from assiduous attention to detail, 'from the moment you pick up the secateurs, to the time the cork goes into the bottle', and it truly shows in his wine. 

We deliberately selected a complex white for this stage of our evening, as it offers a distinct bouquet and flavour profile that perfectly demonstrates the potential of our stemmed wine glass. The tulip-shape design enhances the unique notes of vanilla and almond kernel, which are evident with this beautifully balanced palate. The golden-hued La Rocca entices with an intense and concentrated aroma, and its palate exhibits a sleek, well-structured character with a subtle mineral finish.

Continuing our evening's wine journey, we introduced the Giant Steps Applejack Pinot Noir 2021, a noteworthy red wine that beautifully encapsulates the essence of the Yarra Valley. With lots of herbaceous notes on the nose including fresh oregano and light mint, there is also a smoky cherry and green pepper aroma. The youthful palate shows complexity with cherries, spiced oak and fine tannins.

Traditionally, red wines are presented in larger, oversized glasses, but we hold a strong conviction that such theatrical demonstrations are unnecessary. Our universal wine glass flawlessly showcases the character of red wines like the Giant Steps Applejack. The glass allows wine enthusiasts to appreciate the wine's nuances and complexities without the need for an oversized vessel, making for a more practical and enjoyable tasting experience.

Concluding our evening's wine selection was the Mount Horrocks Cordon Cut Riesling 2022, a choice we wanted to highlight due to the relatively less-discussed topic of glassware suitability for dessert wines. It's important to recognise that, quite wrongly, dessert wines often don't receive as much attention in the context of glassware debates.

The Mount Horrocks is a stunning dessert wine that is perfectly balanced with a refreshing acidity and luscious sweetness. A fitting and delightful way to bring our evening to a memorable close.