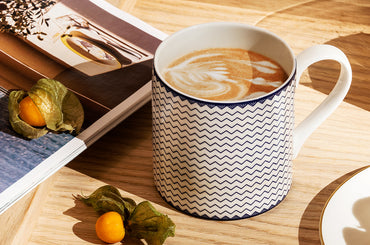 Collection
Richard Brendon Mugs
Richard Brendon Mugs have been designed to make everyday moments exceptional through contemporary design, traditional craftsmanship and elegant bone china.
Incorporating our signature colour palettes of cobalt blue and gold, our mugs will fit seamlessly alongside all of our bone china collections, as well as into any modern home.
All Richard Brendon Mugs featured here are ready to go for immediate dispatch.
If you have any questions regarding lead times, please get in touch.
Handcrafted design
Every piece of our bone china and crystal has passed through several pairs of hands before it arrives at your table. That's what we mean when we say handmade.